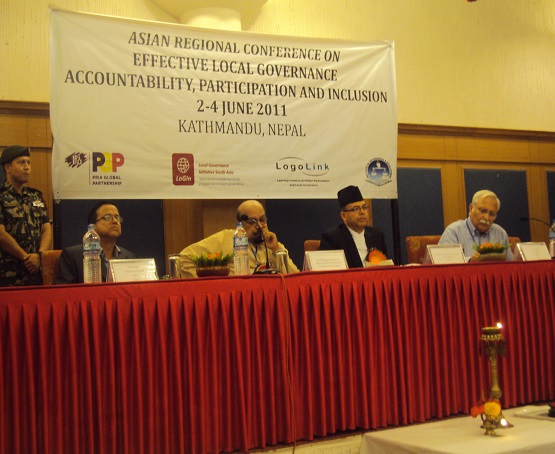 Background
Most Asian countries have now embarked upon reorganising their governance structures through decentralisation process. Local governance institutions in these countries are expected to assume greater responsibilities to promote participatory democratic practices, equitable development and effective provisioning of public services. As these institutions assume such roles and responsibilities, they must be capacitated as well as be made accountable to the citizens, particularly to the poor and marginalised.
The Conference
Asian Regional Conference on Effective Local Governance: Accountability, Participation and Inclusion is conceptualised as a multi-stakeholder platform of civil society organisations, academicians, government and donor agencies which engages in critical reflection on strengthening local governance in the region. It is envisaged as a forum for deliberating findings from empirical research, systematisation of learning from grassroots actions and experiences from on-going policy engagements.
PRIA Global Partnership (PGP) with the support from Local Governance Initiative South Asia (LoGIn), a project of Swiss Agency for Development and Cooperation (SDC) and LogoLink undertook a number of empirical cross-country (Bangladesh, India, Nepal, Pakistan, and Sri Lanka) comparative research studies on the themes of democratic decentralisation, capacity development, democratic accountability, citizen participation and social inclusion, right to information and participatory planning in the context of local governance. The findings of these studies will be shared in this conference with the expectation that they will be further enriched by the deliberations in the conference. The conference is expected to catalyse a regional coalition of practitioners of local governance, citizen participation and democratic accountability. It is envisaged that such coalition through exchanges of practice based knowledge would strengthen in-country local actions and inform the policy processes on an on-going basis.
Specific Objectives
Sharing knowledge and lessons learned for enhancing capacities of practitioners in strengthening local governance institutions;
Identifying issues and priorities for multi-stakeholder actions at the country and regional levels towards strengthening local governance institutions;
Catalysing a multi-stakeholder coalition in the Asian region which fosters cooperation and partnership for strengthening local governance institutions.
Expected Outcomes
Shared understanding among the participants on the emerging challenges of strengthening local governance institutions and their implications on future policies and programmes in the region;
Articulation of a strategic direction with clarity on roles and responsibilities for various actors in the regional coalition with a view to enhance efficiency in capacity development support to local governance institutions.
PRIA GLOBAL PARTNERSHIP (PGP) is an initiative of PRIA to foster knowledge and relationships globally. PGP strengthens and nurtures partnerships across communities and countries to 'make democracy work for all citizens' through developing local capacities, harvesting and sharing innovations through research and action learning, organizing learning processes and promoting multi-stakeholder engagement and convening.
LoGIn South Asia
LOCAL GOVERNANCE INITIATIVE SOUTH ASIA (LoGIn South Asia) is a project of Swiss Agency for Development and Cooperation (SDC). It seeks to disseminate and upscale good practices and lessons learnt from SDC supported projects in the field of local governance and decentralisation in India as well as in other South Asian countries where SDC works. The project provides furthermore support to knowledge exchange between developing countries and between Switzerland and the countries in South Asia.
LOGOLINK
LOGOLINK, the Learning Initiative on Citizen Participation and Local Governance, is a global network of practitioners from civil society organizations, research institutions and governments created to deepen democracy and social justice through greater citizen participation and engagement in local governance. Supported by the Ford Foundation, LogoLink encourages learning from field-based innovations and expressions of democracy that contribute to social justice.
INSTITUTUE OF GOVERNANCE AND DEVELOPMENT
INSTITUTUE OF GOVERNANCE AND DEVELOPMENT (IGD), Nepal affirms the rights of all citizens, particularly the most vulnerable, discriminated and marginalised, to take part in the conduct of public affairs. It has been working on various initiatives on decentralisation aiming principally to strengthen the legal frameworks and to provide training to local elected authorities, disadvantaged and marginalised women and other citizen groups.